About Jeffery
The Thomas B. Jeffery Company was funded in 1902, in Kenosha, Wisconsin. It replaced the Gormully & Jeffery bicycle manufacturing company, and was active until 1916 when the company was bought by Charles W. Nash (future Nash Motors). A large quantity of models were built from 1907 including the famous Rambler model A. The Jeffery N°1 became in effect the first armored car built by the U.S. Government for the Regular Army whereas already several were in service with the National Guard.
The model 1915
Since the company was known at that stage for its all-wheel drive vehicles, it was the earliest provider of the US Military for tests in 1915. The single Jeffery N°1 produced for evaluation this year was 5.3 ton (empty), had a 4x4 steering, 28 ft (8.5 m) turning radius, with rubber-bands on metallic wheels. It was towering, intimidating at 2.5 m in height, armed by four .30 cal Benet-Mercier machine rifles and two in reserve. They can fire from the fully revolving turrets disposed in the centerline, one on the roof of the main fighting compartment and one behind on a compartment seated above the rear axle, each with a -10 to +80 degrees elevation.
Access was granted by side doors. The front engine compartment was ventilated from below as the radiator has no front louvres but can be accessed by a front and two side hatches. It was a Jeffery Gasoline -U Buda 4 cylinders in line, liquid-cooled giving 25 HP at 25 tpm (21.4 kW). It was coupled with a manual two-speed 6 speeds forward/6 reverse transfer case. There was also a 6V electric system for lighting and equipments. The Jeffery could ford an estimated 16 in (40 cm) deep river.
The vehicle joined other models (Mack, Locomobile and White) in General John Pershing\'s 1916 punitive expedition against Pancho Villa in Mexico preceded by a training session in Columbus, New Mexico. The expedition stayed on the border of Mexico and there is no record of fighting. After 1917, the Jeffery N°1 spend the rest of its active life in Maryland, prior to retirement. At least one later served with Canada, at the Eaton, Yukon and Borden Motor Machine Gun Batteries based in Toronto apparently on the 1916 type, although the photo claims to be of 1915, later part of the 1st Canadian Motor Machine Gun Brigade.
The model 1916
In 1916 the British India Command turned to the USA and Jeffery, ordering Forty vehicles for the "Field Force" deployed against the Mohmand rising of Haji Mullah, India\'s North West Frontier. The vehicles were lower, lighter, had a single turret (center) armed with a Vickers .303 liquid cooled machine gun. The rear one was replaced by a fixed observation post and barbettes with pistol ports were fitted on the sides front and rear, but also wire-cutters on the nose, tooboxes rear and sides, no side doors, and many hull details. The Indian Jefferies mostly patrolled unpaved tracks which rapidly showed the vehicle\'s limited off-road capabilities due to the narrow solid tyres and speed was maintained below 12 mph. Maintenance was difficult due to the ship carrying the spare parts being torpedoed and sunk. It seems some were also used in Ireland later.
Links
The Jeffery 1917 on Warwheels.com
Jeffery armored car n°1 on Wikipedia
Armo
red Car: A history of American Wheeled Combat Vehicles (R.P. Hunnicutt)
Jeffery model 1918 specifications
Dimensions (L-W-H)
216 x 76 x 96 ft (5.48 x 1.93 x 2.45 m)
Total weight, battle ready
5.3 tons empty, 5.7 fully loaded
Crew
4 (driver, co-driver/commander, gunners)
Propulsion
4-cyl. Jeffery liquid cooled gasoline engine, 29 hp
Top speed (est.)
20 mph (32 km/h)
Operational range (est.)
150 mi (240 km)
Armament
Main: 1x Bennet-Mercier, 2x M1895 Colt-Browning machine-gun
Suspension
4x4 Leaf springs
Armor
.15 to .20 in (3.8 to 5.1 mm)
Total production
41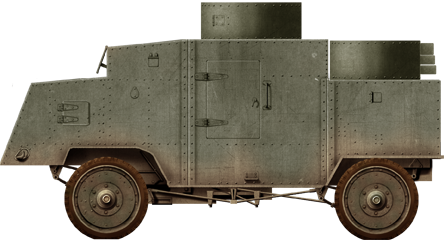 Jeffery number one, Mexico, 1936. It was designed and built at the Rock Island Arsenal with armor plate provided by the Bethlehem Steel Corporation, ranging from 0.15 to 0.2 inches and armed by one Bennett-Mercier and 2 Colt "Potato Digger machine" guns.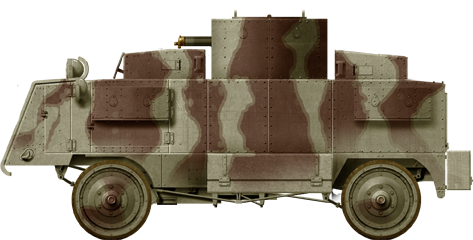 Jeffery quad armored car, model 1916, in a camouflaged livery. The serie version differed by several details, the absence of rear turret being the most distinctive one.
Gallery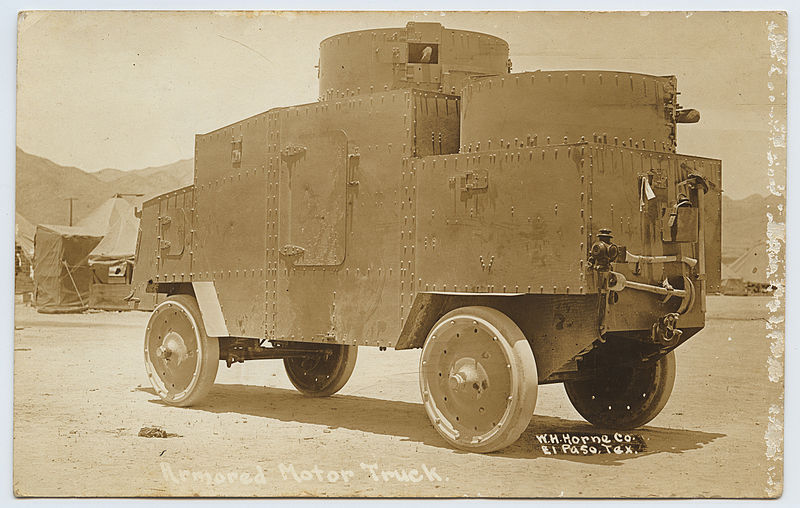 Jeffery AC number 1 model 1915 in Mexico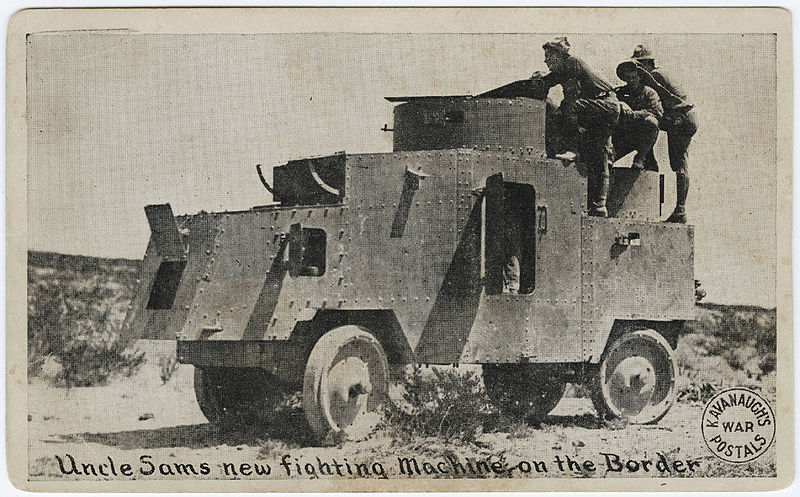 Jeffery number one Mexico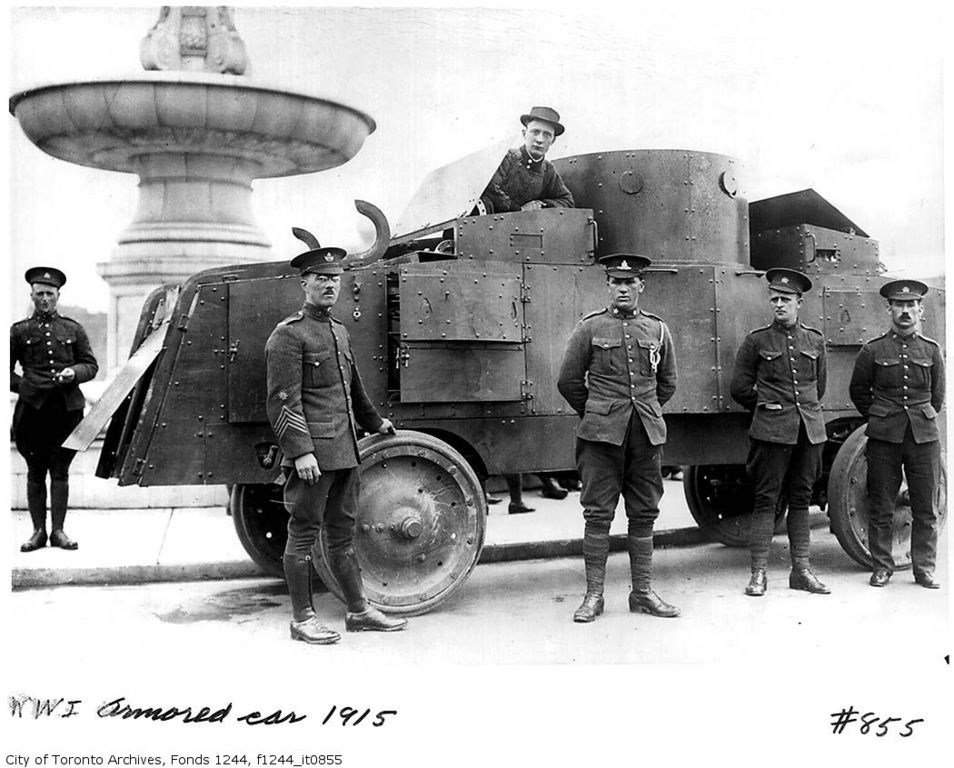 Canadian Jeffery 1915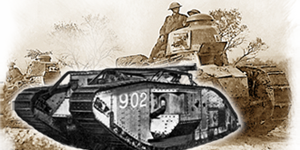 The Great War

Austria-Hungary

Belgium

British Empire

France

German Empire

Italy

Russia

USA
---
WW1 tanks posters