The first french two-man turret Tank.
In 1931, French armor was about to be equipped massively with infantry support light tanks, like the Renault R35 and Hotchkiss H35. Still, by 1931, the specifications of the Plan called for a cavalry medium tank. This means a fast tank. Renault had already experience with the D1 and D2, medium infantry support models. This led Renault to create the AMC (for "Automitrailleuse de Combat")-34. But in 1934, the specification was altered, now pointing out a better-armoured and faster model. Renault then redesigned its plans around the same basis to save time, creating the AMC 35.
This new design incorporated, for the very first time, a new experimental APX-2 two-man turret. This was not derived from any specification, but only a new idea from renault, after hearing many operational training reports and memorandums. Although systematic three men crews for all French tanks of the interwar were mostly dictated by demography, this was also issued by technical limitations. A smaller, one man turret, was still more easy to design and built. And in particular, the very high cost of the Châtillon APX-2 model was partly responsible for this.
The first prototype, conveived by Renault and presented in march 1936 to the French Vincennes materiel commission, suscpicious after the rejection of the previous Renault AMC YR, first found it unacceptable for service as it didn't fulfilled all requirements of speed and protection. But political pressure, ensured by the German remilitarisation of the Rhineland, plus the urgent need of the cavalry, made it for an eventual acceptation.
Design of the AMC 35.
The AMC 35 was based on the previous AMC 34, including the new turret (still not ready for production in 1936). It was remotorized with a shortened version of the Renault B1 engine, a 11 liters V4 petrol 180 bhp, which was devoid of two cylinders and made more compact. However, as the rear compartment allocated space was not enough, the hull was lenghtened to 4,57 m.
This engine has torque but was not optimised for speed, and the designed one (50 km/h) was never approached. Fuel consumption was high, and provision was only 300 liters, enough only 160 km. This was sufficient for a defensive warfare, but cavalry medium tanks were intended to exploit gaps on the battlefield, and a short push was necessary until reinforcements and supplies came.
The new 1934 specification also called for an all-over protection against antitank gunfire, but then this was based on the main 37mm model (and the famous german "door knocker"), barely attained with additional riveted 25mm armour plates on the original AMC 34 hull. The 47mm frontal glacis however, was judged sufficient enough for higher caliber guns of the time, but it proved not immune to the German PAK 40 during the campaign of belgium. Suspension was a classical springs horizontal rubber cylinders sytem.
Crossing capabilities were meagre, with a wading capacity of 60cm, sufficient only for two meters large trenches. The two-man turret was equipped with a standard, light SARF QF 25mm fortress gun, which was still largely better than the common Puteaux 47mm support infantry model. But it was then still needed for the Maginot line, and the turret was finally equipped with the Puteaux long barrel 32 caliber SA35, replaced in production by the FRC 47mm. The commander was on the right side of the turret, also loading, and the gunner, aiming and firing, was on the left.
Production by AMX.
In december 1936, the military division of Renault was nationalized and restructurated into AMX (Atelier de Construction d'Issy-les-Moulineaux). At that time, the original AMC-34 was in completion for trials. This delayed even more the first production start for the improved AMC 35. This medium tank was a low-priority project by the time and political turmoil made it difficult to speed the entire project, despite an official command for the cavalry, which nevertheless received it prototype in november 1938.
In 1937 also, an order came form the Belgian government, but as the production failed to materialised, political pressure prevented the Belgian cancellation of its orders by delivering batches of seven tanks for France and three for Belgium. This was aided by the fact that the Cavalry corp. eventually chosen the Somua S35 instead. Problems also occured with the new APX-2 turret, which was made at Batignolles-Châtillon, of cast iron sections, bolted and riveted together.
Their diascope and drum magasines were erroneously placed, so in Belgium, these were rebuilt at Ghent by the SEM (Société d'Électricité et de Mécanique Van den Kerckhove & Carels) and ready for February 1940. Each tank costed 360 00 francs apiece, but the turrets costs even far more, preventing further orders. More delays prevented any effective delivery until mid-1939, and the first arrived in Belgium or reserve units (in France) in august 1939, at the eve of ww2. An evolved version ACG-2, equipped with a new 75 mm to be used as a tank destroyer was studied in 1939, but no serie was even launched. Another vehicle was rebuilt as a smoke laying vehicle, but only a prototype was ever made.
Operational life of French and Belgian AMCs :
Despite the fact that many AMC-35 has been delivered and were already available in early 1940, nothing was ready to train crews. So the first batches of tanks were put in reserve, waiting for further orders. They came in the desperates days of may, when on the 15, after the outbreak at Sedan, all reserve materials has to be shipped to the frontline and several
had-oc units
were hastily formed with the fourty-seven AMC-35 available, with untrained crews and unsufficient ammunition (normal provision was 120 rounds for the SA35 and 5250 for the coaxial Hotchkiss Mg). The 11e régiment de cavalerie was the first one to be equipped with twelve tanks, followed by the "CFM" or "Corps Francs Motorisés", small units of seven tanks each.
They began to train themselves quickly and found many limitations, first in rough terrain were they proved unreliable, the turret design seemed unfit for a real effective two-man to operate effectively. Plus, their armour was unsufficient for a medium tank, as the events quickly proved. Finally, they had no radio, and no coordinated manoeuvers were possible. These AMCs fough desperate delaying action in the basse-seine and the Loire, with the famous "cadets de Saumur" reputed cadet cavalry school, without infantry nor aviation support. The few surviving units which survived, mostly abandoned, were used by the germans for policing duties under the official PzKpfw AMC 738 (f) registration name, and training vehicles for drivers, as AMC 738(b). One hull was rediscovered, restored and is now at the Saumur tanks Museum in France.
The Belgian AMCs, also called ACG-1 by comparison to the unborn ACG-2 tank destroyer were delivered in small number, totalling 25, until the war broke out. Many were modified until february 1940. In september 1939, a batch of eight were stationed at Watermael-Boitsfort with the Escadron d'Auto Blindés du Corps de Cavalerie ("armoured car" was officially used instead of "tank" not to provoke the germans). They were sent to Ghent and receive a supply of other vehicls, and then were sent to the defence of Bussels, in three platoons. Later, this units and others AMCs fought desperately between the 17 and 27 of may.
Two apparently experienced breakdowns, and four were destroyed by skillful concentrated fire of german PAK 37 squads. The surviving one were captured when the Belgian capitulated in may, 28. Their fate is unknown. It is a possibility that the turrets were sent to the coastal fortifications while the turretless hulls were used for training or converted as schleppers (supply tanks).
Links
The Renault AMC-35 medium tank on Wikipedia
On chars-français.net (in french) - many photos.
Specs sheet:

Renault AMC 35

Dimensions (l-w-h):
5,38 x 2,12 x 2,62 m
Total weight, battle ready :
19,5 Tons
Crew :
3
Propulsion :
Somua V8 petrol 200hp
Speed (road/off road):
40/32.2 kph
Range (road/off road)-fuel :
230/130 km -510L
Armament :
47mm SA35 gun
Reibel 7,5mm Mg
Armour :
From 25 to 47mm
Total production
57
Illustrations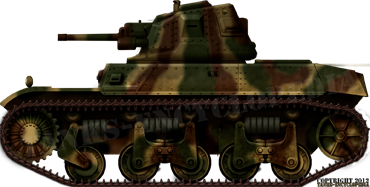 French Renault AMC 35, 11e groupement de cavalerie, Loire region, june 1940.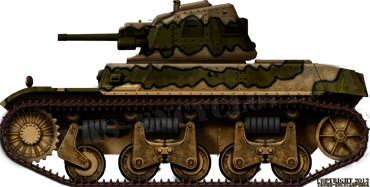 A CFM (Corps Francs Motorisés), from the first batch of seven tanks hastily equipped unit which fought a delaying action between the rivers Seine and Loire, in june 1940. In all, five CFMs of seven tanks each were formed, but only two were ready in time to operate effectively.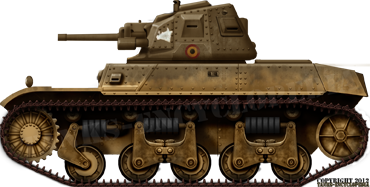 Belgian AMC-35 (or ACG-1), one of the 10 effectivey delivered by january 1940 (on the 25 originally ordered) which fought at Antwerpen (Antwerp).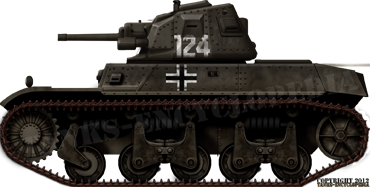 PzKpfw AMC 738 (b) of a training unit. It was deemed to be so unreliable that it is unclear if any of these were really put in action against "maquisards" and partisans, although a unit of AMC 738 (f) has existed in Wehrmacht service.
Renault AMC-35 Gallery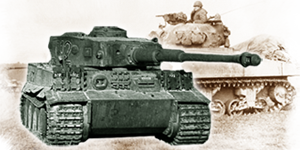 WW2 Tanks
---
WW2 tanks posters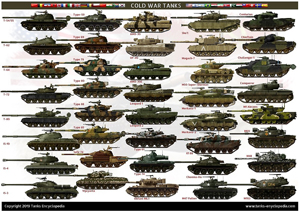 WW2 Armour - All tanks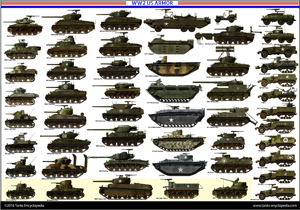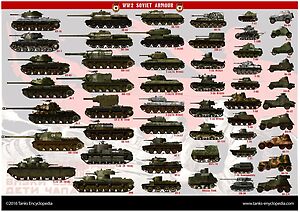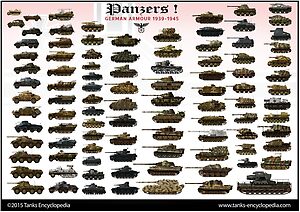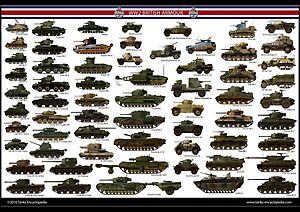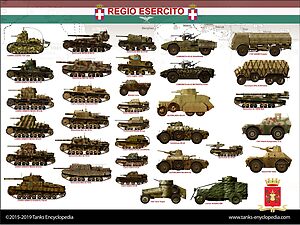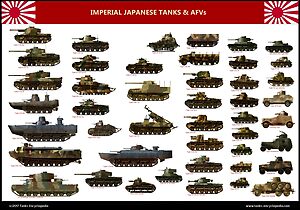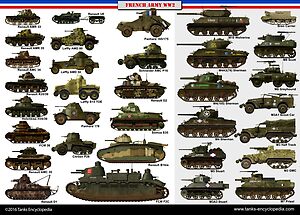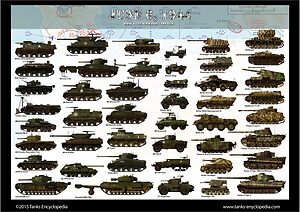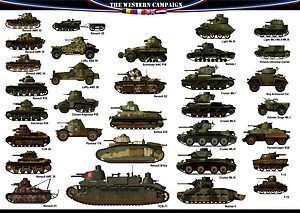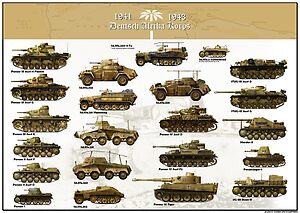 Tanks aces and single tanks series